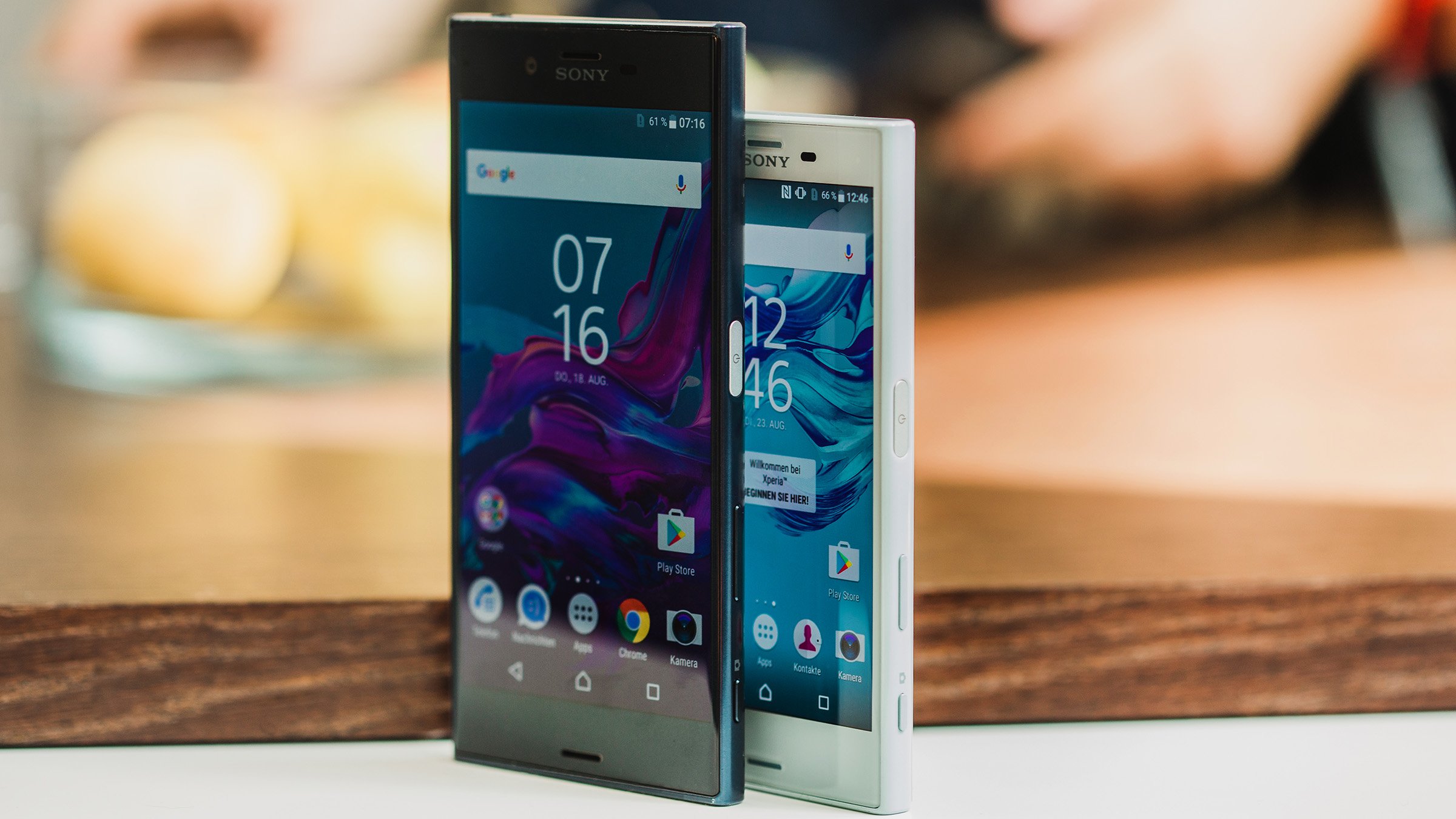 Sony's latest flagship, the Xperia Z6 comes with refined design, improved camera, and a due update in specs. Wait, back up a little there - it's actually called the Xperia XZ this time around but, yeah, the rest of that is true.
When Sony announced the new X-series, some suggested that the Xperia X Performance was meant to take on the likes of the Galaxy S7's and HTC 10's, but we knew that couldn't be the case. Okay, 'suspected' might be more accurate there. Obviously, now we all know that the Xperia XZ is Sony's top-dog for this season, and the Z in its name quickly reveals its ancestry.
Indeed, the XZ has a lot in common with the Z5. The display, for one, is the same size and resolution as the last generation - not necessarily a bad thing, but the XZ also comes with 3GB of RAM - modern-day flagships will crack a condescending smile seeing that in the spec sheet.
No one will laugh at the rest of it, though - top-of-the-line Snapdragon 820 chipset, 23MP camera with a trio of focusing technologies and 4K video recording (one could think the Z is required for that, had it not been for the M5), high-res 13MP front camera, Type-C connectivity, fingerprint reader, IP68 rating, stereo speakers - name one thing missing.
Sony Xperia XZ key features
5.2" 1,080 x 1,920px LCD display with 424ppi, X-Reality for Mobile, Triluminos technology; Gorilla Glass

Android OS v6.0 Marshmallow with Xperia launcher

Qualcomm Snapdragon 820 chipset: quad-core Kryo CPU (2x2.15GHz +2x1.6GHz); Adreno 530 GPU; 3GB RAM

23MP Sony IMX300 camera, 24mm-equiv. f/2.0 lens, predictive hybrid laser/phase detection/contrast AF, IR sensor for white balance selection, SteadyShot, LED flash, dedicated hardware shutter key; 4K video recording

13 MP front-facing camera with 1080p@30fps video

32GB/64GB of built-in storage and a microSD card slot

Single and dual-SIM models (DualSIM has a hybrid slot shared with the microSD card)

LTE Cat.9 (450/50 Mbps); Dual-band Wi-Fi a/b/g/n/ac; GPS/GLONASS/Beidou, Bluetooth v4.2

Active noise cancellation with a dedicated mic; 24-bit/192kHz Hi-Res audio

2,900mAh non-removable battery, QuickCharge 3.0 support, Qnovo adaptive charging, Battery Care smart charging

IP68 rating for dust- and water-proofing

Fingerprint sensor (market dependent), stereo speakers, USB Type-C port, 3.5mm headphone jack
Main shortcomings
3GB of RAM when the competition has almost entirely switched to 4GB or 6GB

FullHD screen resolution not flagship-grade

Fingerprint recognition not available in the US
We're yet to see tangible proof that the RAM race leads to actual usability benefits, but if people were to reason that way, the industry would sit still. It would have been great though, if Sony could have gone with 4GB just to keep up with the times and avoid having reviewers write this paragraph and make them look bad. The extra 1GB can't cost that much, right?
The second count Sony might end up countering with a sequel to the UltraHD Xperia Z5 Premium - 1080p for the mainstream flagship, 2160p for that supposed Premium, and no 1440p at all. Makes sense.
Unboxing
The Xperia XZ comes in a plain white cardboard box like the other X's and you'd be hard pressed to tell the flagship apart from the rest of the lineup. There's plenty of color on the inside though, once you remove the lid. Inside our unit's package we found a run-of-the-mill 5V/1.5A AC adapter, and a Type-C cable.
Sony's retail bundle can vary between countries and carriers, so the box contents here are probably not indicative of what you'd be getting on your end. Some markets may receive a fast charger, and a headset isn't out of the question. We already spotted a few pre-order campaigns that included a pair of Sony's XB950BT Extra Bass Bluetooth headphones - a £150/€200 value.
The headphones themselves are a very comfortable fit and cover the ears completely, while the swiveling cans are great for packing in a suitcase. The name is not just for show either - these do pump out some serious bass.
Sony Xperia XZ 360-degree spin
The Sony Xperia XZ measures 146 x 72 x 8.1mm, the exact same footprint as the Xperia Z5 it comes to succeed, but 0.8mm thicker. It's still not as thick as the Xperia X Performance and its 8.7mm, and nowhere near the chunky 9.5mm X Compact.
The Galaxy S7 is meanwhile smaller in every dimension, though its display is, admittedly, 0.05 inches smaller in diagonal. Then, the LG G5 is a few millimeters larger at 149.9 x 73.9 x 7.7mm but you get a bit more screen real estate there. The HTC 10 is virtually the same as the Xperia XZ in footprint and its slightly higher thickness of 9 millimeters is offset by curves and chamfered sides.
At 161g, the Xperia is precisely as heavy as the HTC flagship. The G5 is 2g lighter, while the Galaxy S7 trumps them all with its weight of 152g. Sony's own Z5 was 154g, but the more recent X Performance is closer to the Xperia XZ at 164 g.
Hardware overview
Sony's smartphone design has traditionally been about evolution, refinement, and polishing, rather than striking changes from one generation to another. That said, it does show that on the XZ designers did more than move around the front camera and sensors.
Now, the Xperia XZ is still mostly a rectangle with sharp corners - some things will never change. If anything, the corners have gotten sharper.
The design is a stylish mix of sharp edges and smooth curves throughout. The sides are fluid, flowing from front to back with only miniscule gaps between the frame and the adjacent surfaces. Sony calls this design 'loop surface', because design concepts are always better with fancy names, but other than that, it sure looks and feels nice.
And mind you, those are three different materials you're touching - glass on the front (an unspecified generation Gorilla Glass), polycarbonate on the frame and ALKALEIDO metal on the back.
The curious sounding ALKALEIDO alloy is actually a trademark name belonging to the Japanese steel manufacturer Kobe Steel and our research showed it's a type of aluminum alloy.
Sony claims that they've chosen ALKALEIDO to complement their phone's premium design with a material, which has an extra shine and a feeling of depth.
Information is scarce though and the marketing materials don't say anything about its mechanical properties so we are really not sure what to expect of the durability of its finish.
We imagine it must have been a challenge to attain the water-proofing with all those different materials on board the device. And while we're on the subject, Sony warns you not to submerge the phone in water, and to avoid seawater, salt water (sea and ocean), and chlorinated water (pools), and points out that the warranty doesn't cover abuse and improper use. That's very much Apple's stance on the subject too, and Samsung simply says that you should stay within the boundaries of the IP rating.
Waterproofing is still a gray area with smartphones and we'd certainly advise against deliberately subjecting your phone to an environment that would test its ingress protection. Take it for what it is - a failsafe for when accidents happen.
Mineral Black is what our review unit's color is called, but depending on how light hits it, it can be deep purple, or brown or anything in between. It is ALKALEIDO's smooth satin finish to thank for all this sparkle.
What it fails miserably at is keeping fingerprints away. Beautiful as it may be when clean, it's going to be covered in grease for most of its life unless you religiously wipe it with a cloth after each use. Under some angles you may not see it, but it's there. That's a rather prevailing issue with today's smartphones, we just sort of expect metal backs to be less prone to accumulating smudges than ones made of glass.
It is mostly metal on the rear - the ALKALEIDO alloy we already mentioned - save for a strip along the bottom that is plastic. It's not really an eye-sore, and if you're positively inclined, it may even pass for a design accent.
The camera in the top left corner with a flash underneath it. The flash (still a single LED unit) is joined by a couple of sensors, one for laser autofocus, the other for measuring the color of the light in the scene for producing a more accurate white balance.
In terms of space management, the Xperia XZ is typical Sony - ample bezels all around, but especially above and below the display. Sure, there are the stereo speakers to somewhat make up for them, but still we feel that shaving a millimeter or two wouldn't hurt.
On the forehead, you'll find one of the speakers in the center, which also doubles as an earpiece for voice calls. On its right are the proximity and ambient light sensors, and on the left you'll find the front-facing camera.
Further to the left, almost on the edge is an LED notification light if you care for such subtle niceties.
The top and bottom didn't get the memo on the whole loop surface thing, though. Sharp transitions and flat surfaces dominate here, but you shouldn't mind - that's not where all the swiping and tapping happens. For the purpose of looking good they certainly fit the bill.
On the bottom you'll find the Type-C USB port. The Xperia XZ is the one of the first two Sony smartphones to have one. Sony only went halfway on this, though - Type-C it may be, but it only adheres to the USB 2.0 specification.
Right next to it is the primary mic.
The top panel has the secondary mic and (thankfully!) a standard 3.5mm jack. Certain manufacturers tend to think that it may no longer be needed but we'll have to disagree.
The control layout is typical Sony too. The fingerprint reader/power button is on the right, a little bit above midpoint. It's easily accessible with either a right thumb, or a left index finger, so you should be okay no matter which hand you normally use. If it's the left one though, the sensor may have a slightly lower success rate due to the more awkward handling position. Hands and fingers vary, and so will your experience - we had no issues operating it.
That doesn't necessarily apply to the volume rocker though, even if it's a quibble - it could have been placed a little higher. We appreciate the two-stage manual shutter button, but increasingly more so for its ability to launch the camera super quickly and less as an actual shutter release. We've already grown accustomed to taking pictures with tapping, but more importantly, exercising force on the small physical button often results in slightly misaligned shots and camera shake on such small devices where you can't get a steady grip (as opposed to an actual digicam).
On the left side, you'll find the card slot. Our unit takes one nano-SIM card and a microSD card, but a dual-SIM model will be available with a shared slot between the second SIM and the microSD.
The tray has a rubber gasket to keep water and dust out (good), but the phone will invariably restart every time you pull it out (not so good). You may find it particularly irritating if you happen to swap microSD or SIM cards often.
5.2-inch FullHD IPS display
Sony is confident it nailed the flagship display size and resolution with the Xperia Z2 and has been sticking with it ever since, now including the Xperia XZ. A 5.2-inch FullHD display means a density of 424ppi, which is plenty sharp. However, the likes of LG and Samsung have moved to QHD for similarly sized displays, and Sony is trailing in the specs race.
accuracy. The maximum brightness of 502nits in manual mode goes as high as 608 nits in auto mode, with bright light shining into the XZ.
Blacks are nicely dark and contrast ratio is excellent - higher than the X Compact, but not as high as the X Performance.
At the lowest setting, brightness is easy on the eyes at 5.2 nits.
Color reproduction is not great, though. The average DeltaE of 5.8 is decent, but there is a pronounced blue cast to white and gray. Other than that, out of the primaries, green is off the most (DeltaE around 10), and cyan is far from the truth as well.
Sunlight legibility, on the other hand is superb. High quality LCD displays have been getting near AMOLEDs in this respect, even if they can't quite match the best of them. The Xperia XZ is on par with the iPhone 6s, and a little short of the iPhone 7 in contrast under direct light, but the LG G5 and especially the HTC 10 are far behind.
Connectivity
The Xperia XZ is well stocked on connectivity options. Our review unit is the single-SIM version (F8331 model name), but there's also a dual-SIM one (F8332). The slot in that case is of the hybrid variety though - it's either a second SIM or a microSD card - you can't have all three.
LTE Cat. 9 (450Mbps down, 50Mbps up) is supported. The phone also comes equipped with dual-band Wi-Fi a/b/g/n/ac with 2x2 MIMO antennas for speeds up to 433Mbps (if you have an 802.11ac capable router). Local connectivity goes on with Bluetooth 4.2 with aptX and Low Energy, and NFC.
The Wi-Fi connection can be used for screen casting - be it Miracast, Google Cast, or DLNA. If you connect a DualShock controller, the Xperia XZ can even double as a portable console streaming your Playstation 4 games vis PS4 Remote Play. It can also connect to your car's stereo system via MirrorLink.
GPS, GLONASS and BeiDou satellite positioning is supported, unless you're in the US, where it's just GPS and GLONASS.
The Xperia XZ has no FM radio though. Funnily, to get that you'll need to look lower in the lineup - the Xperia X has it.
The USB port is Type-C, but it only conforms to USB 2.0 spec and not 3.0 or 3.1. It lets you hook up USB storage and accessories and charge other devices. Every time you connect it to a PC, you'll need to select the data transfer mode, as it defaults to charge only. That makes sense when you have a form of screen lock enabled to protect the contents of the device. However, on the XZ defaulting to charging is also the case when no security is set up, which is somewhat annoying. Also, on other phones, unlocking the handset immediately identifies it as a media device without the extra intermediate step required.
Sony has dropped MHL support, so you have no wired way to output an image to a TV. You do get 3.5mm analog output to your choice of headphones.
Sony Xperia XZ battery life
The Xperia XZ relies on a 2,900mAh battery to keep it powered. That's the same capacity as the Xperia Z5 before it, while the Xperia X Performance has a 2,700mAh power pack. The majority of current Android flagships are around that number too, with the HTC 10 and Samsung Galaxy S7 having a smidgen more juice to work with (3,000mAh), and the LG G5 - slightly less (2,800mAh). The iPhone 7, on the other hand, makes do with a substantially smaller capacity - 1,960mAh.
In our tests the Xperia XZ proved to be excellent at voice calls and an otherwise balanced performer in the other disciplines. In 3G calls the smartphone not only delivered on Sony's promised endurance - but actually even exceeded it. The 23:39h voice call endurance is an hour behind the Galaxy S7 edge, but no match for any of the other competitors, with the iPhone 7 not capable of lasting even half that. The XZ's result is also 3 hours longer than the X Performance's.
Web browsing over Wi-Fi depletes the Xperia XZ's battery in just over 9 hours - not spectacular, but a tangible improvement over the Z5's 7:40h. The XZ matches the HTC 10 in this test (9:08h) and outlasts the LG G5 (7:38h). The Galaxy S7 edge, however, will let you wander the web for 5 and a half hours after the XZ has called it quits.
In looping our test video until the battery is down to 10%, the Xperia XZ lasts for 8 and a half hours, pretty much the same as the X Performance. Compare that to the 4 hours the Z5 barely squeezes out of its same capacity battery. Outside the Sony realm, the HTC 10 is in the same ballpark (8:42h), the iPhone 7 lasts a little longer (9:15h) and the LG G5 beats them all (10:21h). Well, except for the Galaxy S7 edge and its crazy 20 hours of video playback.
Coupled with frugal standby power consumption, the above numbers add up to a combined endurance rating of 72 hours. Of the above competitors only the Galaxy S7 edge manages to top that (98h), the HTC 10 stands at 66h, while the iPhone 7 and LG G5 score 61h and 60h, respectively. The Xperia X Performance's overall results is 61h, while the Z5's 48h look pretty bad in this company.
Much like the previous X-series phones, the Xperia XZ has the Qnovo adaptive charging technology built-in. The technology allows the phone to monitor the cell's electrochemical processes in real time and adjust charging parameters accordingly to minimize cell damage and extend the battery unit's lifespan.
Qnovo claims the battery should last hundreds of charge cycles more than a conventionally charged battery. This means a year or so of extra longevity as in theory if the battery ages better, it should hopefully be able to hold charge better in time (an important aspect for a phone that has its battery sealed-in).
Battery Care is another proprietary Sony feature, which however is introduced with the Xperia XZ. It won't be available on all markets though, so if it sounds like something you might be interested in, check back with your local Sony rep.
So what does Battery Care do? Say you charge your phone overnight, and you regularly plug it in at midnight and unplug it at 8 in the morning. In time, the phone will recognize the pattern, charge the battery to 90% and then stop charging. And then at, say, 7:30 in the morning it will pick up where it left off and top it all up to 100% at a slower pace. If it hasn't picked up your routine, it'll do a standard charge.
The handset also supports the Qualcomm QuickCharge 3.0 (and, of course, 2.0), but we're not sure if it will come bundled with a charger to match. It will most probably be a regional thing.
On the software side of things, there's Sony's Stamina battery saving feature. It has two modes: regular Stamina, and Ultra Stamina. The first disables non-essential features like GPS and vibration, and takes performance down a notch.
Ultra Stamina is for absolutely dire occasions when you don't expect to be able to find a power outlet for a long period of time. Enable that and it's back to basics where you get a single homescreen with access to the dialer and contacts, text messages, camera, clock - just the basics. Going out of Ultra Stamina requires a restart.
Android 6.0.1 with some Xperia sprinkled here and there
The Xperia XZ in our office is running Android 6.0.1 Marshmallow, and that's what retail units will ship with out of the box. An update to Nougat is planned, naturally, and recent speculations point to an October date.
Sony tends to keep the stock Android look, except for a few gentle touches here and there. The big stuff, like the proprietary Stamina battery saving modes and the home-baked multimedia apps are here as well.
The fingerprint reader introduced on the Z5 series of Xperias is integrated into the Power button on the right side.
We had an excellent user experience with the fingerprint reader on the Xperia XZ. It's fast and accurate. There's an animation that slides the lockscreen away from your thumb (as if you pushed it out of the way). If you have simple swipe unlock enabled (no security) you can tap on the Power button to unlock instead, provided you've woken up the device first.
Smart Lock gives you conditional security - trusted nearby devices, locations, faces, or voices can allow you to skip the security unlock protocol.
The homescreen appears unchanged from the rest of the X series. This includes the swipe down gesture, which shows a screen of the apps you use most along with recommendations for new apps to install. The search field is highlighted so you can start typing the app's name immediately.
The traditional app drawer is present, and you'll find a number of proprietary apps pre-installed. Sony takes great pride in the A/V prowess of their devices, and the multimedia apps are all custom and feature-rich, but more on them in their dedicated chapter.
The app drawer is quite functional as well, letting you sort the apps in by frequency of use, name, date installed or a custom arrangement. The app search works here too, and you can go into a management state, allowing you to uninstall multiple apps instead of having to drag each one to a virtual waste bin.
Themes are available (both free and paid) that can customize the look and sound of the Xperia XZ. Some themes are even interactive with wallpapers reacting to your touches.
The notification area is plain Android. You can re-arrange the quick toggle tiles and adjust the screen brightness. What's missing is a toggle for Auto brightness (you need to go into the settings for that). That's the single thing we don't mind getting changed by manufacturers and still, many of them like to keep this aspect stock.
The app switcher is similarly a vanilla Android affair with the 3D rolodex look and a kill-all button. The small apps are gone, however, and there is no longer floating-app multitasking. There isn't screen pinning either like we had on the Xperia X Performance - apparently, not a very popular feature, as we haven't seen it since.
The Smart cleaner feature will periodically empty the cache of apps you haven't used in awhile. You can switch this off or just manually tell it not to bother for certain apps.
Sony has a proprietary backup solution built-in on its latest Xperias. It can backup applications, contacts, messages, phone settings. The backup info itself can be stored in the cloud under your Sony online account, or locally on the microSD card or an external USB device.
Backups can be scheduled, including conditions like "Connected to Wi-Fi" and "Charging device", depending on your preferences.
Camera
The 23MP primary camera of the Sony Xperia XZ is familiar from existing Sony high-end models, but in some aspect it's better than any of them.
The sensor isn't new - starting with the Z5, Xperias have used a multi-aspect 24.8MP sensor, now officially named as Sony IMX300. It is a custom sensor model, which is used only on Sony smartphones, and not supplied to other OEMs.
Depending on whether you shoot in 4:3 or 16:9 aspect ratio, different portions of the sensor are used and you get either 22.8MP or 20.1MP images, respectively, and never the full 24.8MP. Hence the official 23MP designation. Among the benefits of having such a multi-aspect sensor are the similar field of view in both modes (measured diagonally), and higher-res 16:9 shots than what you'd get by cropping from a regular 23MP sensor with a 4:3 aspect ratio.
As we already mentioned, this sensor was first used in the Xperia Z5. Later on, the same sensor was used in the Xperia X and the Xperia X Performance. It's also used now inside the XZ. You can read more about it in our dedicated article we published back when the Z5 came out.
The sensor is placed behind a 6-element lens with an ultra wide-angle 24mm-equivalent field-of-view and a f/2.0 aperture. These particular specs of the camera have not changed since the Xperia Z5.
Historically, flagship Xperias have had no optical image stabilization, and neither does the XZ. Sony's SteadyShot with Intelligent Auto has been upgraded, however, and now offers 5-axis image stabilization. We're not too comfortable with the term 'axis' that's become all too popular for describing what is a 'degree of freedom', but the point is that Sony's system is able to compensate for translation alongside two axes and rotation around all three. Or shift shake in the X and Y direction and yaw, pitch, and roll shake.
However, it only works in a narrow range of scenarios, when shooting video. It's activated in FullHD mode only, and when shooting close-up subjects. In cases, where both of these conditions don't apply, it's back to its usual 3-axis algorithm (pitch/yaw/roll).
That's not all that is new about the Xperia XZ's camera. While from the Z5 on high-end Xperias have had hybrid contrast/phase detection autofocus, the XZ adds laser autofocus to the mix, to help speed things up, by taking care of close-distance subjects and letting the other systems, well, focus on the rest of the focusing range.
But wait, there's more. Sony has also installed an RGBC-IR sensor (RedGreenBlueClear-InfraRed) to assist the image sensor in figuring out the color temperature of the ambient lighting, and adjust the white balance accordingly.
There's just one LED for the flash, though - no change there.
Introduced on the Xperia X, predictive autofocus is here as well. The idea is that you can tap on your subject and the camera will track its movement, keeping the focus locked on it. This is great for subjects who would move all around the scene such as a toddler or a pet.
Camera interface
The Xperia XZ uses Sony's latest camera UI. You change modes by swiping up and down (or left and right, if you're holding it in portrait). Superior Auto will probably be the main mode you use, only make sure you select the 23MP resolution - it's 8MP by default.
There's a Manual mode too, which has gotten a few more features this time around. What was once just exposure compensation and white balance selectors, has now been expanded to include full range shutter speed selection (1/4000s - 1s) and a manual focus slider. The ISO setting is still tucked away in an extra settings menu, though.
The Camera App tab holds some useful features and some features, which are just there for fun. Some of the available modes are Sweep Panorama, Slow-motion video, Face in picture, Sound Photo and a few more.
The selfie cam has pretty much the same features as the main camera aside from minor differences (the selfie cam's manual mode has no ISO selector or manual focus slider). It even reminds you to look at the camera lens when taking a photo.
Like other Xperias, the Xperia XZ's camera lets you capture moments in the blink of an eye - from a locked phone, it takes a mere 0.6 seconds to capture the first shot. To use that feature, you need to enable taking a photo when waking the camera with the shutter key in Settings.
Image quality
How do we go about this. To put it simply, the Xperia XZ's camera output is alright. It excels at resolving high-intricacy detail like foliage (and test charts) in good lighting, but with the sheer resolution of the 23MP images we'd be surprised if it didn't. All that detail, however, is mixed up with noise and noise reduction artifacts, which doesn't look good when pixel peeping.
Stick to fit-to-screen magnification and you'd appreciate the good dynamic range and genuine color reproduction, particularly in natural light.
As usual, we're providing the samples of the same scene taken in Manual mode. While there may be subtle differences in some specific scenarios, generally there's little to tell them apart from those taken in Superior Auto. The way we see it, unless you specifically want to tweak shutter speed, ISO or focus, Superior Auto is the way to go.
Artificial light is when the dedicated RGBC-IR should help with white balance, and while it may very well be able to judge the color temperature perfectly, images still come colder than we'd like. Incandescent light in particular is rendered a lot cooler than the average person perceives with their eyes.
The other headline feature on the XZ is the triple-hybrid autofocus with laser assist being the new kid on the block joining phase and contrast detect. Laser works at close range and should be particularly useful in low light. Well, we experimented while shooting the test charts at the studio and the speed didn't blow our minds, despite the fact that it's a perfectly tailored scenario for the tech to shine.
In the past, Sony smartphone cameras have been plagued by lens issues, and we've observed the usual corner softness on the XZ, as well as on the X Compact. These two, however, seem particularly prone to lens flare with some examples shown below.
High-contrast situations can be handled in one of two ways. You can either shoot in Superior Auto and let the Xperia decide what's best for you, or you can switch to manual and flip the HDR toggle yourself. On the X Compact the dedicated HDR mode produced noticeably brighter images than Superior Auto - brighter overall, like positive exposure compensation. On the XZ the processing is much more restrained, and the results are more pleasing, but also practically the same as in Superior Auto - again, just stick to that. The thing is, without a live HDR preview you can never be sure what will come out in the end.
The Xperia XZ doesn't feel right at home in low light though. The samples below were shot at dusk, and while exposure is spot-on and colors aren't washed out, zooming in reveals how soft and lacking in detail the images are. And that's not even at night.
Naturally, we shot our test posters with the Sony Xperia XZ and here's how it fared next to reigning flagships iPhone7 and Galaxy S7 edge. Of course, our tool allows you to compare it against any other smartphone that we've shot with.
Sony's panoramas have been and still are among the poorest you can find on a flagship, in both user interface and image quality. Yes, there's a Sweep panorama mode, but you still have to manually select the sweeping direction and the images are of low resolution and have stitching issues.
13MP selfie camera
The Xperia XZ is equipped with a 13MP selfie camera, making it the highest-res front-facer on a big-name flagship - Sony gets it. It produces excellent images too,packed with detail and with good dynamic range. It does suffer in less than ideal light, though.
The Xperia XZ is the only model in Sony's current lineup to feature 4K video recording - largely a marketing decision, since the Xperia X, X Perfomance and X Compact all have the hardware to do it. Of course, you get the standard 1080p/30fps and high-speed 1080p/60fps options.
A few caveats go with the above. For one, 2160p recording is a shooting mode all in itself, instead of being a setting in video recording. Digital stabilization is available, of the SteadyShot Standard type, but it appears that Sony uses the center 3,840x2,160 pixel portion of the sensor only, thus resulting in a severely narrower field of view, compared to still shots.
The 1080p/60fps mode also gets the SteadyShot Standard variety. In contrast, shooting in 1080p/30fps mode gives you the option between Standard and Intelligent Active. It's this last mode that gets the headline 5-axis stabilization (still digital), but only when recording close-up subjects.
Bit rates are 56Mbps for 4K, 30Mbps for 1080p/60fps and 17.5Mbps for 1080p/30fps. Audio is recorded in 156Kbps in all cases.
4K video is somewhat soft, but you can still read the gas prices on the gas station sign. There isn't much detail in the shadows, though. The footage is practically noise-free too, and looks really natural.
Final words
Rest easy, Xperia X Performance, the Xperia XZ will take it over from here. Sony's ultimate flagship this year has finally arrived (though we are still entertaining the thought of an X Premium).
It brings back Z-series essentials reimagined to fit into the top of the revamped X lineup - the blocky rectangular body is now clad in ALKALEIDO; the 5.2-inch display is the same size and resolution, only better; the camera has every known focusing tech built-in, and an extra color temperature sensor. How could all that not make a worthy upgrade to the Z5, good enough to make us stop lamenting the Z-series' demise?
Well it does, sort of. It's a better phone than the Z5 in pretty much every respect, that's for sure. The greatest leap is perhaps in battery life, where the Z5 fared miserably once we adopted a specific brightness level for our battery tests. The display itself is also an improvement - visibly, and also measurably.
Time and time again, though, we can't get truly excited about a Sony camera. It may be equipped with every imaginable engineering breakthrough Sony could come up with, yet you'd be able to find more pleasing images if you look elsewhere. Try not to get us wrong on this one - it's not a bad camera, it's just not the best camera, and it still beats us why Sony, of all makers, can't make it the one.
Sony Xperia XZ key test findings
Attractive no-nonsense design building on the traditions of Sony flagships. High-quality build. Changing hues under different light looks surprisingly refereshing.

Excellent display, high maximum brightness and contrast, great in the sun. Color reproduction is not very accurate though.

Solid battery life - 72h endurance rating, 9 hours on the web, and will offer almost as much runtime in video playback.

Minimalist approach to skinning Android leads to a clean interface, but with added Sony goodness - Stamina modes help prolong battery life, multimedia apps are easy to use and feature rich. Where's a file manager when you need one, though?

Snapdragon 820 is a top performer in general, but the XZ isn't among the best vehicles for showcasing its prowess - mostly average results in benchmarks. It may not be a chart-topper but it's a good showing nonetheless.

Excellent audio quality and above average loudness with external amp, unimpressive volume and a drop in quality with headphones.

Detailed 23MP images from the primary camera, suffering from noise and noise reduction. Good dynamic range and colors in good lighting, uninspiring performance when light levels drop. All the extra engineering (laser autofocus, white balance sensor) leads to little perceptible improvement in image quality and shooting experience.

Great-looking 4K video, but with limited field of view. 1080p footage goes wider but isn't on the same level in terms of quality.

13MP front facing camera is a boon for selfie lovers - plenty of detail, good dynamic range, just keep the subjects well lit.
Sony's pricing of its flagship actually makes some sense with the Xperia XZ, for a change. That's in part due to the Bluetooth wireless headphones that come bundled in a lot of markets if you pre-order the XZ. Priced at €200/£150, they bring the phone's price down to €500/£400, though simple math is not really how this works. What does tend to work, especially with Sony handsets, is price drops, so you might be wise to wait for a few months (though no headphones then).
Anyway, the rivals are clear - only the best will do. Let's start with the Samsung Galaxy S7 edge, which is closer to the XZ in terms of price than the regular S7. With the S7 edge you get more screen real estate in mostly the same physical dimensions, and it's sharper too.
The curved Samsung flagship also has much longer battery life going for it, but its primary camera has half the pixels of the XZ's. Not to mention Samsung's 5MP front-facer - it's so two thousand and late, says the Xperia's 13MP selfie cam. The Type-C port of the Xperia joins the mock fest, only to be countered by the microUSB of the S7 edge that both adhere to the same USB 2.0 standard, and which type of cable do you have more of?
The HTC 10 is another flagship from an aching manufacturer that might have been too pricey at launch. Its price has dropped, making it more affordable now than the Xperia XZ. It may not be ALKALEIDO, but the 10 is made of metal as well, though it can't match the XZ's IP68 rating. It's another case of 12MP/5MP vs the Sony's 23MP/13MP combo. The HTC features a proper USB 3.1 Type-C port, so at least you get faster transfer speeds.
The LG G5 does come in an aluminum body too, only you can't feel it under the coating, and with that detachable chin it can hardly compete with the Xperia XZ in a beauty pageant. Or in a pool dive - the G5 has no waterproofing. At EUR250/GBP120 less than the XZ though, it is a bargain for what it offers - a couple of rear cameras (both 4K-capable), QHD display, removable battery - heck, it even has an FM radio.
As more unorthodox option, one could explore the Huawei P9, again more affordable than the XZ at launch. A different take on the dual-camera, the Leica-branded shooter on the P9 could introduce you to black and white photography, but the phone can't record 4K video. It's also not as powerful, trailing the XZ in most benchmarks, and lacks the protection from the elements.
The iPhone 7 is pricier than the Xperia XZ pretty much everywhere, and belongs to a different ecosystem altogether - not a minor consideration. An overall more compact device, the iPhone has a smaller lower-res display, but it's one of the best in business - certainly the most color-accurate. Then there's the more powerful chipset, and the optically stabilized primary camera, though the XZ has the megapixel trump card to throw against it. The XZ has a microSD slot for storage expansion, which is but a dream in the Apple realm, yet it could be essential to some.
We've been having a hard time wholeheartedly recommending a Sony flagship recently, for one reason or another. Well, we have it easier with the Xperia XZ - it's the best Sony smartphone yet. Only, we can't help but feel they can, and should, do even better.